Opis
Strength, energy and health
It is not only professional athletes who have to take care of a proper diet. Everybody needs a daily dose of vitamins, minerals and enzymes. Freshly squeezed juices are the ideal way to provide the body with valuable nutrients. Resistance, vitality, energy, regeneration – now they are easily accessible with the 4Swiss BM202 xJJ slow juicer.
See Joanna Jędrzejczyk's favourite juices at the bottom of the page 🙂
Ideal juice consistency
The improved design of the strainer, screw and pulp track together give a great effect in the form of a silky, smooth juice full of vitamins, enzymes and pectins.
OTHER STAINER
Jagged edges of the hole
BM202 x JJ STAINER
Laser-cut hole edges
Clean strainer in 20 seconds
No more scrubbing the strainer after every juice squeeze! Do you remember the old juicer, which had to be spread out into a dozen or so parts and scrubbed each of them thoroughly? That's history.
Made with laser precision, perfectly smooth holes of the squeezing strainer do not catch fruit fibers, do not clog up and clean themselves instantly – just a stream of water!
The ECS (Easy Cleaning System) allows pre-cleaning of the working parts of the squeezer, as well as quick cleaning between different types of juices. After the ECS procedure, just rinse the working parts of the squeezer to enjoy a perfectly clean machine – record-breakers do it in just over a minute!
This is a real knockout for the competition!
Comfortable 2-in-1 cover
The cover of the 4Swiss BM202 x JJ slow juicers has 2 convenient and safe inlet holes:
One bigger one with a diameter of 8 cm, into which you throw whole apples, oranges or kiwis without cutting.
The smaller one is in the lid and has a diameter of 4 cm. This way you can serve smaller or longer ingredients: cherry tomatoes, celery, carrots. No slicing!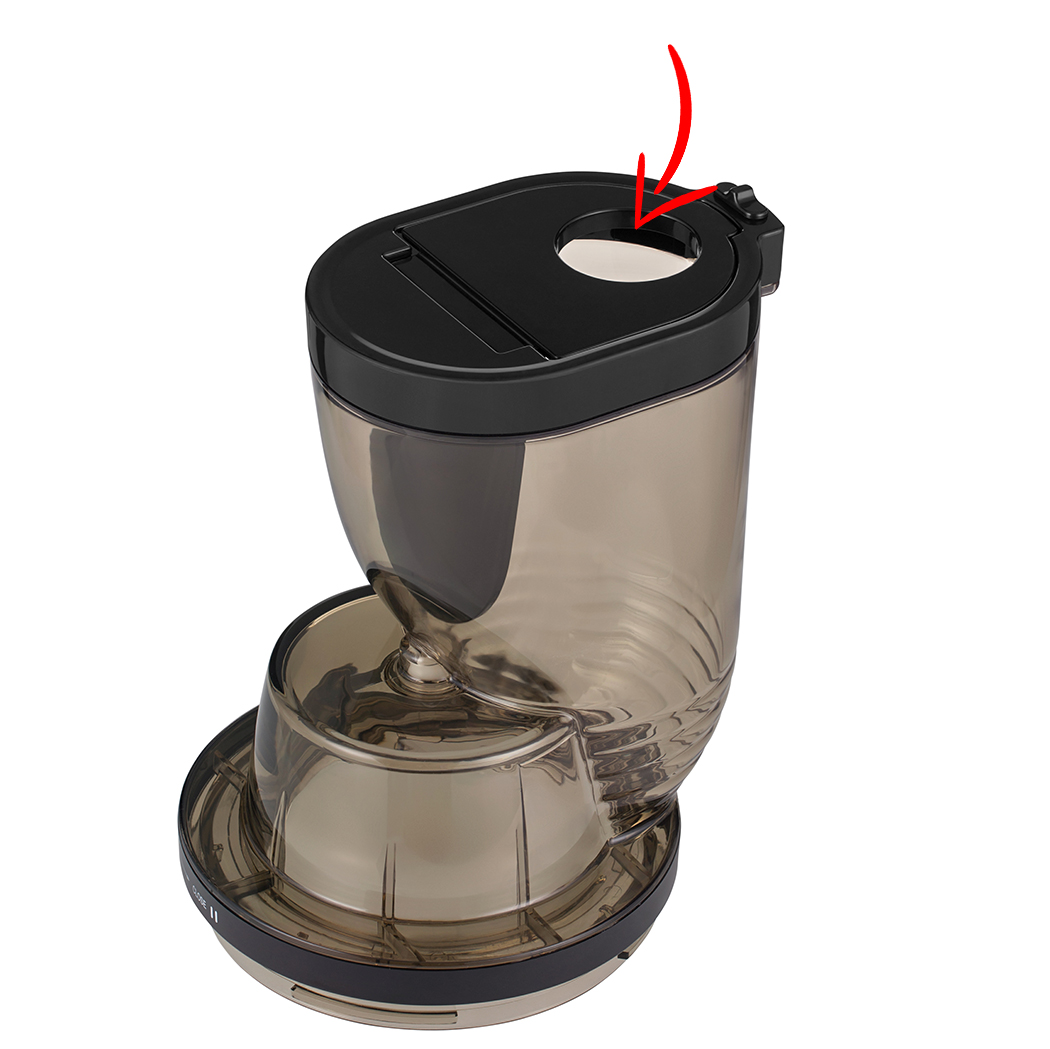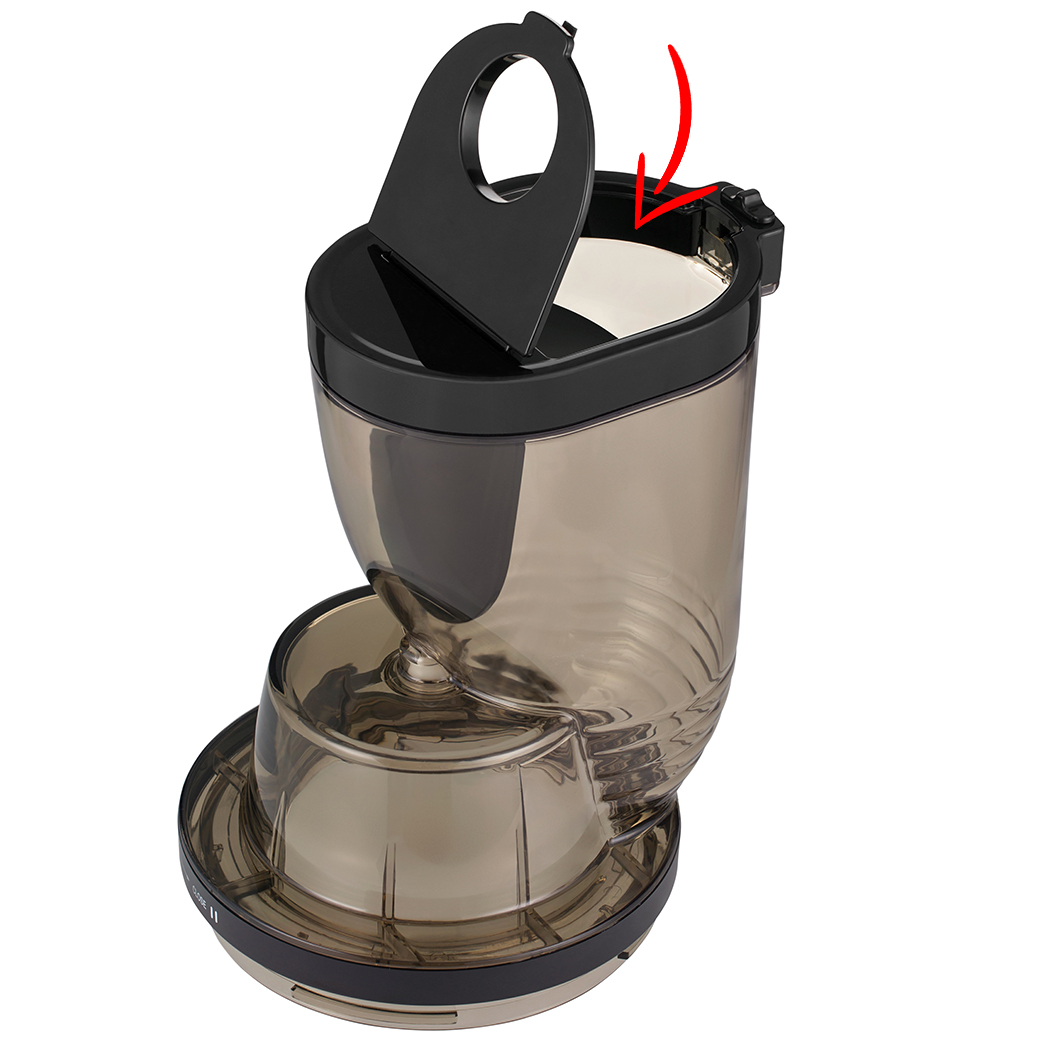 New generation screw
We have redesigned the stamping ring system using advanced CAD/MES modeling. The result is faster and more accurate squeezing of juice, and an additional cutting and picking knife ensures much more efficient picking of fruit and vegetables for squeezing. The pushing piston remains in the drawer!
The screw is made of Ultem, a material created by NASA. The Ultem is a very durable and completely safe new generation material, free of bisphenols (BPA) and any toxic components. The material's hardness is close to steel, surface smoothness at glass level, and its ductility has allowed us to obtain a shape ideal for pressing juice. No compromises!
Slow juicer tested for safety and quality by specialists from the Swiss Intertek laboratory
Product recommended by MedFood nutritionists
An AC motor: Nominal power of 200W, with effective squeeze power of up to 430W. Powerful motor for excellent squeezing results and comfortable work with high energy efficiency.
Energy Saving: Many times less energy consumption than in old juice extractors.
Slow squeezing: 46 RPM. Provides the perfect balance between juice squeezing efficiency and nutrient protection.
Low Noise System: The use of an efficient and silent motor, high quality gearboxes and precise workmanship allows for maximum noise reduction.
BPA FREE: All materials used are free of Bisphenol A.
Easy Cleaning System: Simply pour water into the container, turn the squeegee on for a few seconds and let it pre-clean. After that, you can make a completely different juice and make the thorough cleaning quick and effective – a stream of running water is all you need.
RP Roughahe Plus: The juice from the BM202 x JJ slow juicer contains a large amount of fibre, much more than can be obtained from a juicer. The juices are saturated and full, "rich" in taste. Fiber slows down the absorption of carbohydrates (supports weight loss), supports the bacterial flora of the digestive system, regulates sugar levels in the body.
EPS: Enzyme Protection System: Slow squeezing and the special design of the screw and stainer allow to maintain uninterrupted enzyme chains. This way, the juices greatly support the natural digestion process.
Absolute guarantee: 4Swiss machines are made with the utmost care. That's why we offer an extraordinary, perpetual motor warranty, a 5-year warranty on the entire machine and a convenient service by free courier service. But you want to support your health, not wait for repairs forever, right? That's why we take the challenge: service in 5 days and return the repaired appliance or replace it with a new one!
Product name: slow juicer
Model: BM202 x JJ
Power: nominal 200W, squeezing 430W
Number of turns: 46/min
Motor: single-phase induction motor
Inlet system: Whole fruit with a maximum diameter of 80mm
Cable length: 1 m
Tension: 220 – 240 V
Frequency: 50 Hz
Fuse: 250 V 5 A
Continuous operation time: up to 30 minutes
Dimensions: 22 x 15 x 46 cm
Weight: 6.4 kg
Accessories: fine strainer, coarse strainer, juice container, pulp container, cleaning brush, pusher, book of interesting juice recipes
Construction of slow juicer
The 4Swiss slow juicer is distinguished by the highest quality of casing and components. Our equipment has been tested for quality and safety by specialists from the Swiss laboratory Intertek.
Additional accessories
Additional accessories are included with each set.
fine strainer
(runny juice effect)
coarse strainer
(mousse effect)
Only now! In additional promotion!
A book with interesting recipes for juices
Ceramic knife for vegetables and fruits worth 99 PLN
Not only the juice…
Do you need some variety? With the BM202 JJ slow juicer you can prepare a whole lot of tasty and valuable cocktails, dishes and cakes. We especially encourage you to use juice pulp in the name of the "Zero Waste" philosophy.
Healthy juices from fruit, vegetables and herbs
Thick mousses, purées (e.g. tomato), baby slurries
Puree (e.g. potato, carrot)
Medicinal preparations: e.g. onion syrup for a cold, nettle juice, dandelion juice, linseed extract (for heartburn and stomach ulcers)
Potato, zucchini, pumpkin or carrot pancakes
Nut milk (e.g. almond milk)
Cakes and baked goods with waste pulp
Soups with essences such as beetroot borscht are prepared without cooking! This way it preserves much more valuable nutrients.
Fruit ice cream based on yoghurt*
*possible when you buy an extra strainer
Good to know
Vitamins and minerals in freshly squeezed juice are more effectively and quickly absorbed by our body than after eating whole fruit or vegetables.
Freshly squeezed
fruit and vegetable juices
The juice is extracted by a close pressing process. The screw first crushes the fruit and then presses the juice out of it:
works at low speed
first shreds the products, then crushes them and squeezes the juice
the juices are not aerated
lack of foam
constant consistency of the juice
more nutritional value, thanks to the juice's flesh content
a more pronounced taste of juice
juice rich in vitamins, minerals and enzymes, more antioxidants
possibility of squeezing the juice from herbs
the ability to make mousse
quiet operation
easy and quick cleaning
Juice is extracted by very rapid rubbing of the fruit and then centrifuging the juices from it:
it works at a very high speed
the blades and grater produce a high temperature that destroys some of
the nutrients
the juice is more aerated, delaminates faster and breaks down
the juice consists mostly of water
the juice quickly oxidizes and browns
a lot of unused flesh
high noise during machine operation
cumbersome cleaning
no possibility of making mousses, purées, sorbets, ice cream, syrups, vegetable milk and tofu.
JJ's favorite juice recipes
Joanna Jędrzejczyk is a Polish mixed martial artist and former Muay Thai kickboxer who competes in the women's flyweight and women's strawweight division of the Ultimate Fighting Championship (UFC). She is a former UFC Women's Strawweight Champion. As of January 27, 2020, she is #4 in the UFC women's strawweight rankings and #6 in UFC women's pound-for-pound rankings.